---
As you grow up a snowboarder in Minnesota, you quickly realize your tremendous and unfortunate situation: the scene is small, and your hills are smaller. Little did I know that we were playing by fire rather than candlelight and it wasn't until I left my home hill in northern Minnesota that it occurred to me. What we have here is a condensed meal of talent and outright creative fearlessness. The scene in Minnesota has become an incredible landscape for great riders and talent that reaches the peripheries of the sport. This is to include riders, film and edit crews, writers, graphic designers, and salty park crews (many a times being a combination of all of these things).
As I was fumbling with my summer job, I had an optimistic feeling that the upcoming season would be one of the best, mainly because of the incredible friends I've made working with Colab. During the season of 2018-2019, I had the opportunity to build some parks with Austin Sam, an Afton Alps local and aspiring polymath of the talents listed above. This season, he's partnered with FYVE to complete an online video series (link below) called HEARTLAND that delves into the beating heart of Midwest snowboarding. Here's what he had to say.
What was your inspiration behind the series?
This is a tough question because I feel like there has been a culmination of things over the years that got me to this point. I always looked up to video series like "Sunday in the Park" and "Human on Board" because it's just a bunch of friends hanging out riding together and there were always random people thrown into them. I always thought it would be super cool to be a part of something like that and I made it my goal to be in one or the other. It never ended up happening but hey there's still hope haha.
Those series were always a favorite of mine because you never knew who you'd see in front of the camera.
I guess, in the end I just wanted to have my own project to show how many people actually kill it in the Midwest. I feel like the scene here is really underestimated by a lot of outside riders. They see all the big riders coming out of the Midwest but what nobody realizes is how dense the talent is here. Every season I see someone new from the Midwest on Instagram or in a video just doing some ridiculous trick that I wouldn't even think about trying. That's what I want to capture because it happens a whole lot more than we think it does.
It's interesting that you say dense talent because its a good description of rope tow parks. Does 'Heartland' take the idea of Midwest riding and emulate that culture?
If someone asked me to describe the culture, I don't even know what I would say. It's almost based on the resort you ride and the people you ride with which kind of sucks honestly. Oftentimes the community isn't very inclusive. There are always little kids getting yelled at or people from other hills getting mean mugged by local riders. I don't know, the community has always struck me as a little bit toxic at times. All in all, everybody just wants to watch sick shit go down and no matter where you go in the Midwest it's bound to happen. I would say that the goal with this video series is to shed some light on how consistent the riding in the Midwest is and show how good SO many people actually are.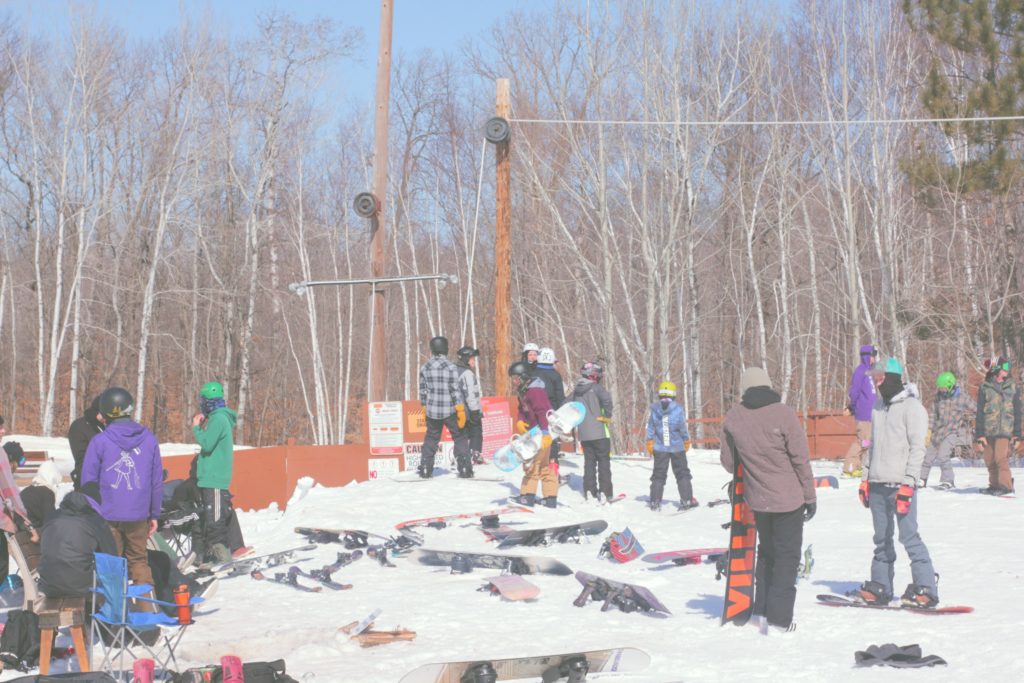 Who are some riders and places we can expect to see in the series?
Garrett Mckenzie will be in a lot of them just because I ride with him all the time. You can expect to see quite a bit of Ryan Paul in the series and honestly, there will be a lot of Afton riders in there too. Mostly because Afton Alps is my home hill and it's just really easy for me to film there. Expect to see some other faces in the videos though. The first episode had Pete Croasdale in it and the kid RIPS so he will be getting some more shots for sure. I'm going to be bouncing around resorts filming for it so whatever locals are there and willing to get some clips will be in it I guess. The first episode was filmed at Wild Mtn., and I hope to have episodes from Hyland, Elm, Buck, Afton, Lutsen, Troll, Powder, and maybe one or two more. I haven't really planned out a schedule for it or anything, I'm sort of just winging it and seeing how it works out.
Park focused or streets?
Park.
Thats good to hear. I love street parts but there is something fun about park edits, too.
What was it like riding at Afton growing up? For me, those years learning how to ride were some of the best (before tow ropes had ever hit the scene).
I only rode one season before the rope was put in. This will only be my seventh season on snow and 6th in the park. All I really remember from learning to ride was Repolia Robinson teaching me all of the most basic tricks on the easiest features and I was terrified to try them, but he would always hype me up and get me to keep trying shit. Learning to ride was honestly pretty hectic but he made it so much easier.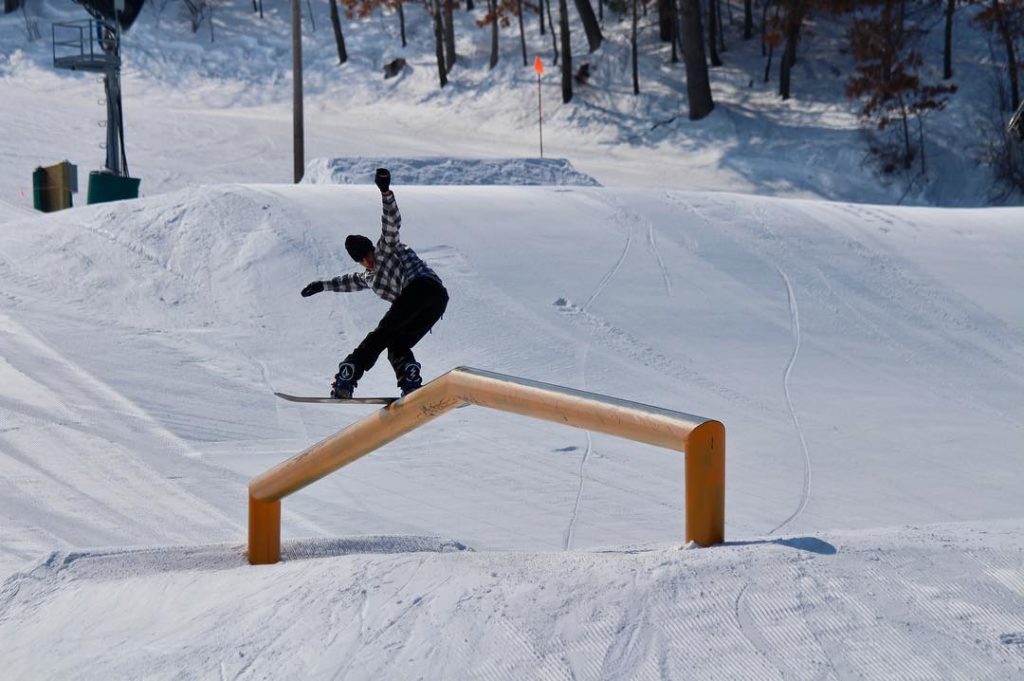 That's incredible. Shout out to Repolia.
How did you start on park crew?
I just kind of slowly improved over the years and got close with a bunch of the park crew guys. When I turned 18, I just applied and had an interview with Pete Moore, the park manager. I got the job. It all happened pretty fast but I'm super glad I did because it has given me a ton of opportunities with snowboarding and taught me a whole lot more. I stand by it that Afton builds the best parks and maintains it the best. Feel free to comment back with differing opinions haha.
I'll cheat on my home hill with Afton any time, haha.
How did you get into filming and editing?
I don't really have an answer to this, really. I just started putting out content and it has always been lacking in the editing department until recently when I actually started putting some time into my videos. I just really enjoy making content, I have a ton of fun doing it and you learn something new with each edit you make which I think is awesome. It's just something else to progress on within the same industry.
The two definitely go hand-in-hand. It's pretty difficult to be a snowboarder or skier and never get familiar with a camera.
In respects to filming, I noticed most places are cool about it. That being said, there are still some places that make it very hard to film, build, and open a decent park before November ends. What is the relationship between management, the park, and the rest of the hill? Do you have freedom to build and make decisions or is it like pulling teeth to get things done?
I can't say much about this just because I don't want any smoke from Vail but if you really wanna know, feel free to ask me on the hill or somethin'.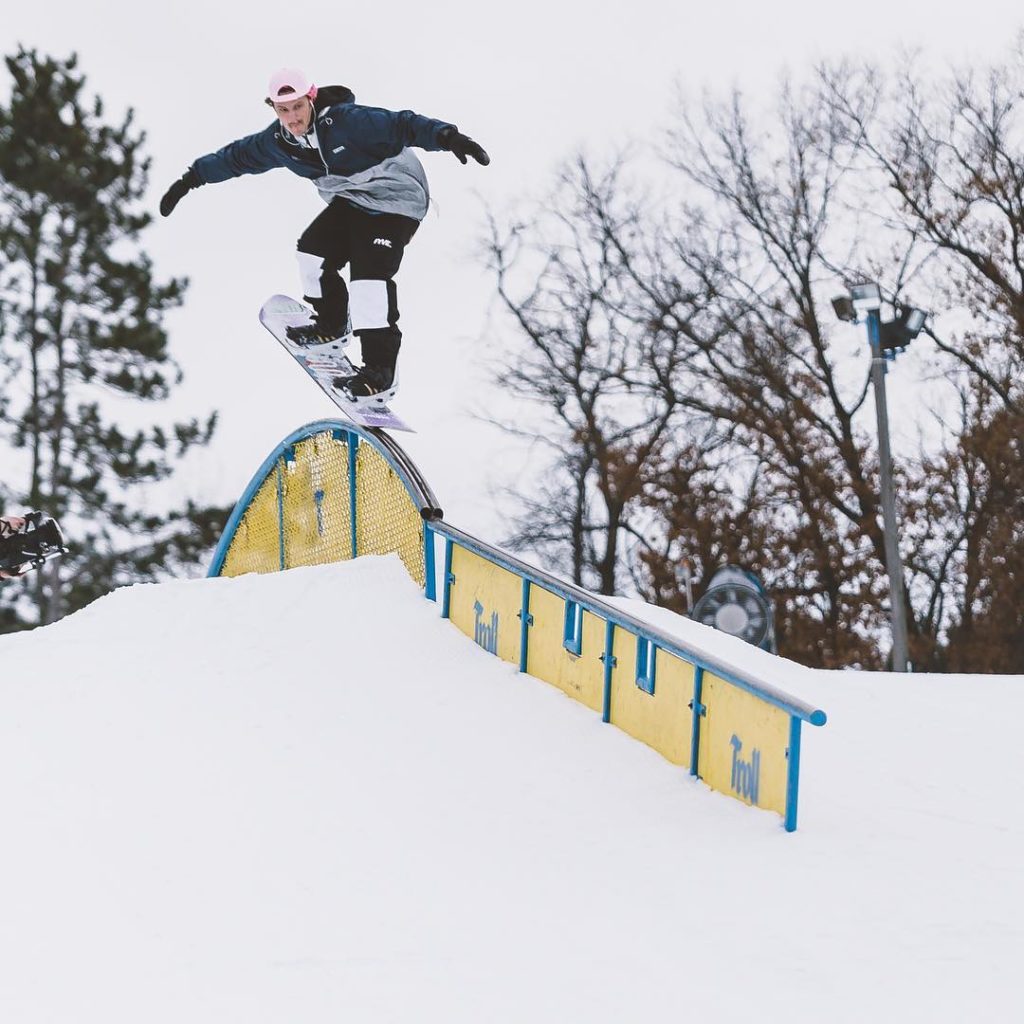 Thoughts on rolling your snow pants up.
It started as a very practical way to preserve snow pant life and stop your bindings from tugging on them and ended up being the biggest trend in the Midwest. I personally don't like to show off the whole boot, so I roll the bottoms and keep it over my boot but out of my binding heel strap.
Packed lunch or chalet grille?
It depends on what I've got in the fridge. The meal discount at Afton is clutch though and I take full advantage of it. Luke Swope and I used to go to the Alps chalet at Afton 5 days of the week and get the same exact meal, each time trying to finesse free stuff to make the meal more exciting. It literally never worked…
Go-to beer brand?
I don't drink much but I'm a sucker for a good IPA. I went to California once and I can say that the IPA's there are incomparable.
Favorite snowboarding film?
I personally loved "Landline". I don't know why I was so stoked to watch it but I was more excited for that movie than I ever have been for a snowboard film. I think part of my respect for it is just how stacked the Vans team actually was and how they made the video flow. Everyone looked like they were having so much fun the entire film and it was super cool to watch.
That film will forever be the best
If you had to live in a hot climate for the rest of your life (no place to snowboard) would you pick up skating or surfing?
I can't go underwater so I'd have to go with skating. Sounds like hell haha.
Favorite rider right now?
Jake Kuzyk for sure.
The more I interview snowboarders, the more I understand the complexity of whats really going on right now in snowboarding and the answer is simple: snowboarding is a complex group of people doing rad shit and it's always changing. No matter your location (west coast, east coast, Minnesota or Wisconsin), riders have something to offer to the world and its beautiful. This is just one example of that beauty.
Episode 1 of Heartland can be found on FYVE's IGTV. Keep an eye out for more episodes dropping all winter! Peace, @EARLLLLLLLLLLL