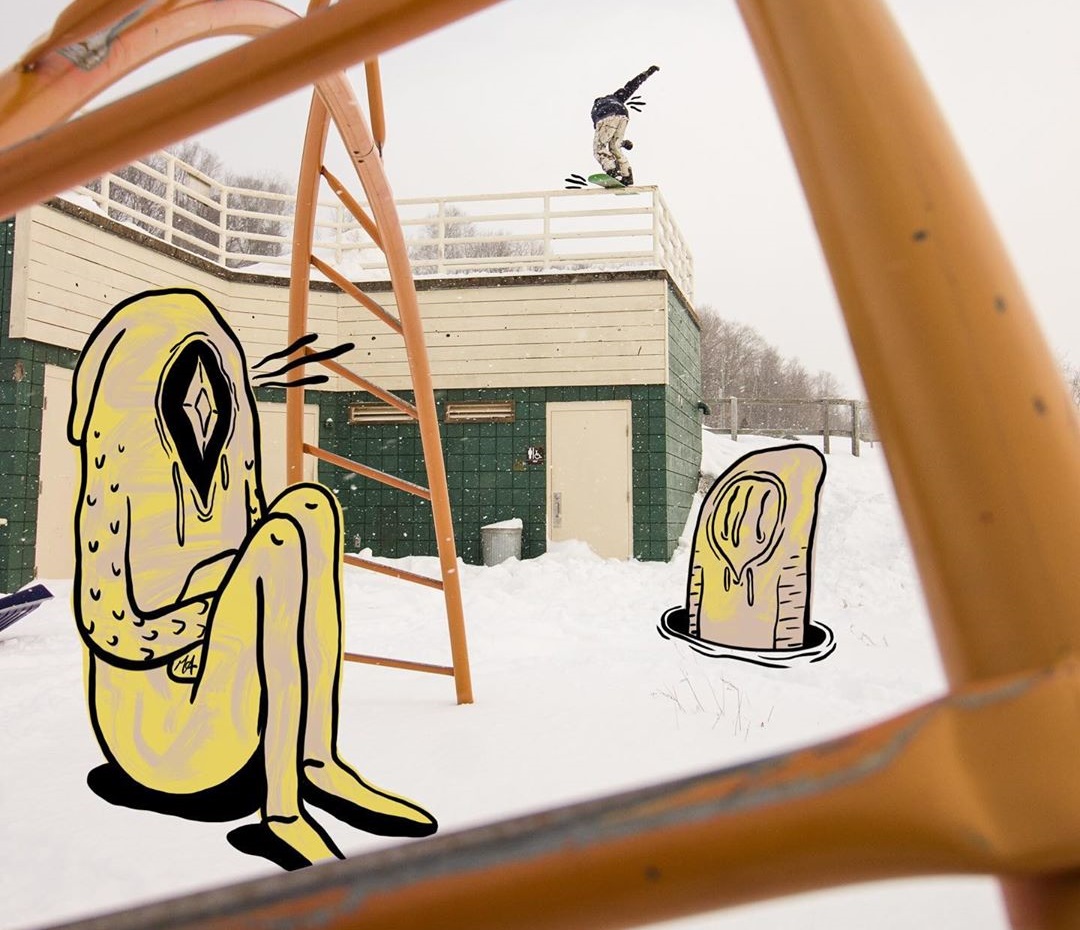 Growing speculation as the sun is setting, an uneasiness unique to the individual. Sometimes the things we desire are often things that we need. If it is a form of expression, the individual can only lament the sun, but also feels, at their very core, the need to express themselves before it goes. And so it must be the same in snowboarding.
It's the analogy that seems most appropriate for a sport in which I've heard so much commotion about the perpetual decline and the overriding fear that snowboarding may be dead. For Morgan Anderson, more commonly known as @shred.mango the sun rose early, and the need for expression came as soon as she could hold a pencil. Her talents didn't go to waste, as her father, a snowboarder who has passed the torch to future generations of riders, raised her in the heart of the Midwest snowboarding scene.
It was time that Morgan was able to manifest her creativity and perform some of the most unique artwork the sport has ever seen. She knew snowboarding was going to be a major part of her life, and she wouldn't have it any other way. Nearly five years ago Morgan started snowboarding and by 2015 she had already designed a graphic for Humanity Snowboards, caught the attention of Volcom not too long after—who showed their support by sending art supplies and personal sketchbooks. She drew over the photos of New Zealand photographer Cameron Henderson, including iconic shots of JJ Rayward and Carlos Garcia Knight, which sprung about a series of methodical illustrations of mostly Midwest riders we see all over Instagram today. In an ambitious attempt to create what came naturally for Morgan, a niche was created and immediately filled.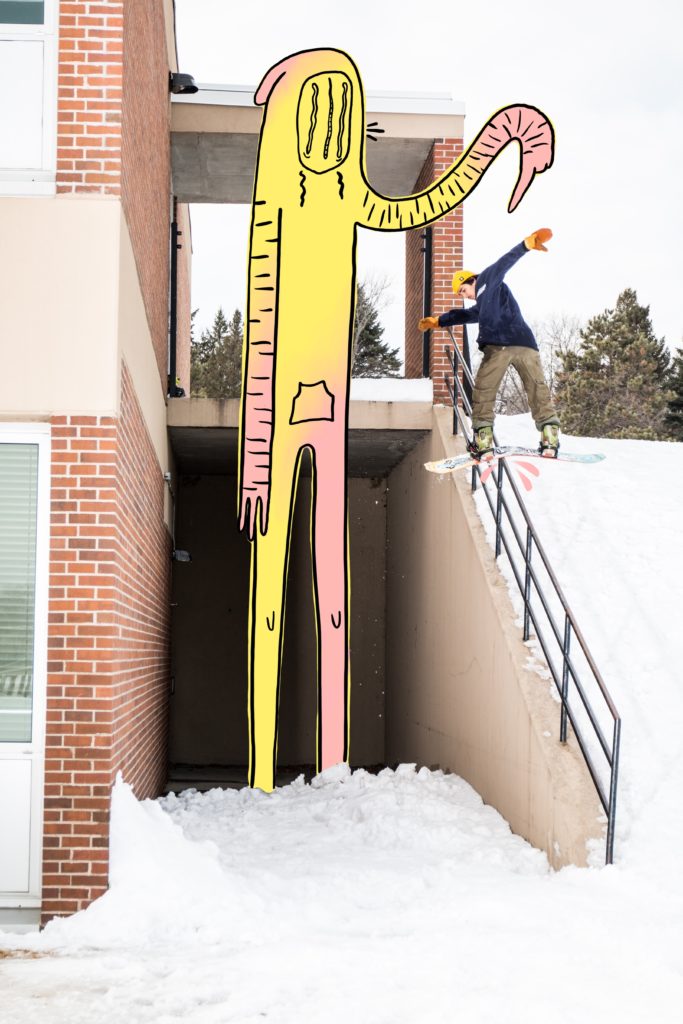 If inspiration is the fuel we all burn, then the sun must be its mother. Interestingly enough, the thought of inspiring an enormous swath of people like Morgan has done through social media is incredible and deserving of literary praise. So much so that I had to think very hard about how I could tell her story in a way it could make sense to a divided audience. What I mean of course, is the fallacy that snowboarding is dead.
This statement couldn't be further from the truth. "Naturally, when I strap into my board, my brain switches into the same mode as I'm in while I draw or paint. I totally tune out the entire world and life's problems, and like most, I became totally addicted to that." Morgan tells. To her, snowboarding seems very much alive. It was in the late 1960's that snowboarding was developed, and it wasn't until the mid-90's that it was celebrated as an Olympic sport. The sport came tremendous distances to get to where it is today, but leaps would have to be made for the public to understand what impact it had on the individual. The idea, then, was very specific and so other institutions like X-games, Dew Tour, and many other large-scale events were the triumphant achievements of a snowboarder's career. So much so, that if we hadn't reached those heights, your attempts would be dismissed.
I believe, like many others might, that snowboarding is not dead and social media did not kill it, "The more I grow as a rider and artist, the more I notice how incredibly similar they are to each other." Morgan states. Social media has allowed for the individual to define what success in snowboarding really is, besides just being good at riding half-pipe or slopestyle and embark on the path to sharing your belief's with riders you may have never met. Social media, then, has created such a wide variety of success and influence that the sport could never actually die; as biology will tell us, diversity is the key to success.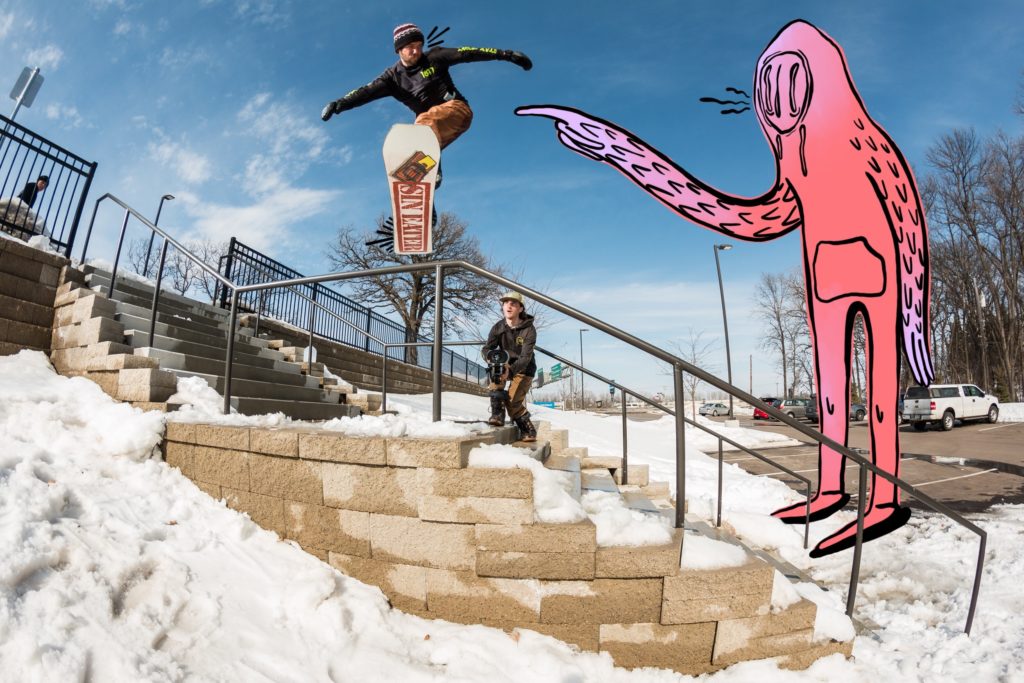 As Morgan has said, the uniqueness of a carve is incredibly special to everyone. It may be so simple but it's a mark you can leave on the hill and look at from the chairlift with a grin on your face. In many ways, the style you bring to the hill is much like a blank canvas. "Recently I painted a massive rail at Powder Ridge and the feeling I got, after more than four hours of work, was so insane and getting to see everyone hit it the next day was incredible." In this case, Morgan has quite literally brought the canvas to the hill. "Its nice to be able to just sit in front of a canvas and just tune everything out and just see where my head leads me. At the beginning, I usually hate it with a passion and want to trash It, but as I go on, the more I grow to love it and that's taught me a lot in life. There's always a positive ending."
Of course, every thrust must leave behind the thruster, much like a rocket, and social media may have detriments of its own. "These days I've seen so many 'guidelines' forming within snowboarding. 'you have to ride rails to be a real snowboarder' or 'you have to do this to join this'. I totally understand where it's coming from. I see a lot of people taking on this sport just to boost followers and likes and that is stupid." Morgan says. Why is that Morgan's opinion of snowboarding has become unique when it should be the standard mindset of everyone who straps in? Every rider knows that in order to be seen a video of themselves must be praised on the gram. How do we define the sport if its so naturally diverse? The answer, once again, is in the individual. The ability to contribute to the sport can be misleading and often confusing but it can also be as simple as illustrating strange and unique creatures atop the photos of other riders.
"I usually get all of my inspiration for my art from snowboarding. If I see someone hit a feature in a certain way or if my friends say something that I think is funny or just anything that gets the gears in my head turning, I instantly get this idea that I chew on while I ride and it evolves until I get home, grab my iPad, piece of paper and pencil, or whatever I have laying around and just mess with the idea all night." So, we see that inspiration might be the purpose of snowboarding and the success of the individual can be expressed in wide variety of ways. What we can all agree on is that snowboarding is not dead. It is thriving, finding new ways to invent itself and most importantly, its nature is spawned by the individual.