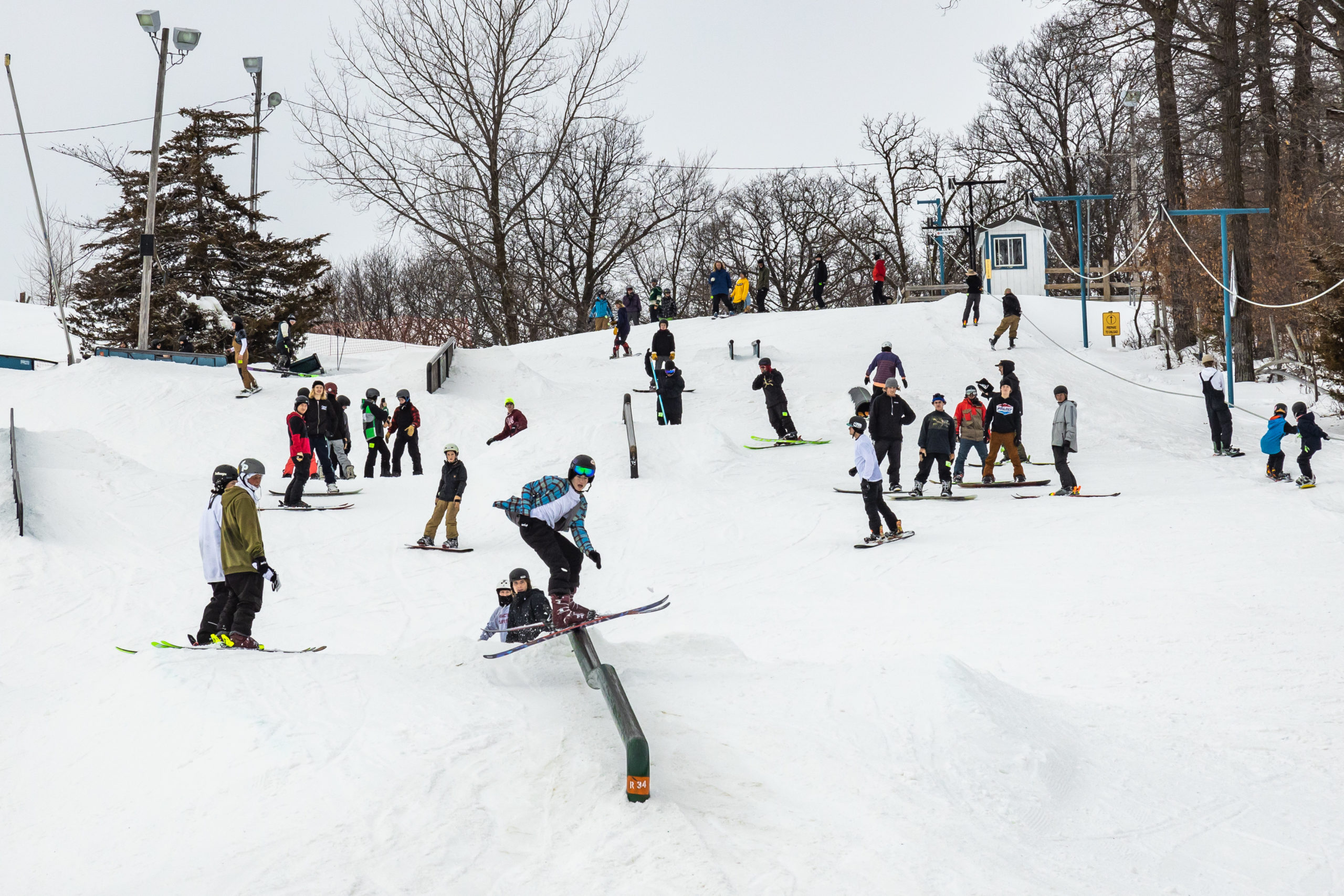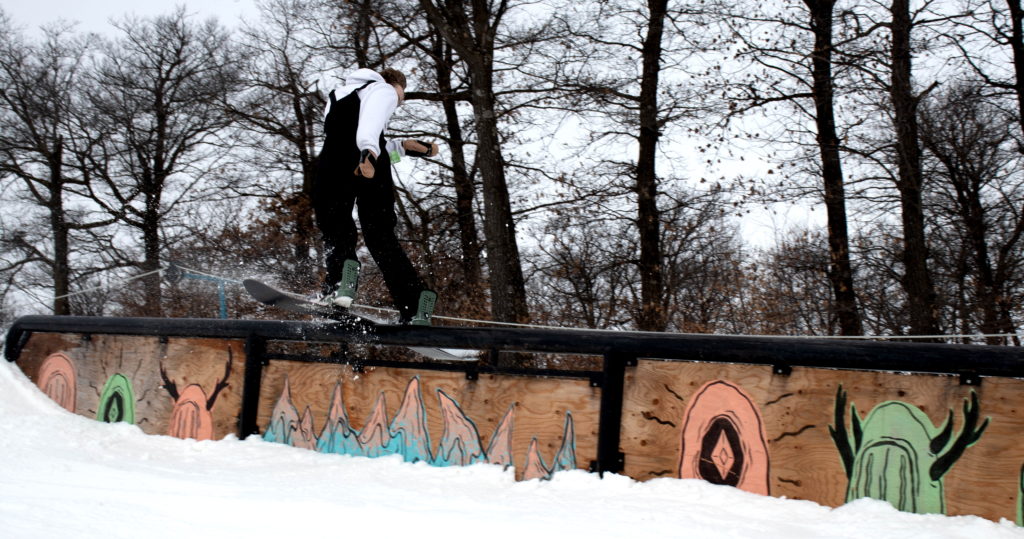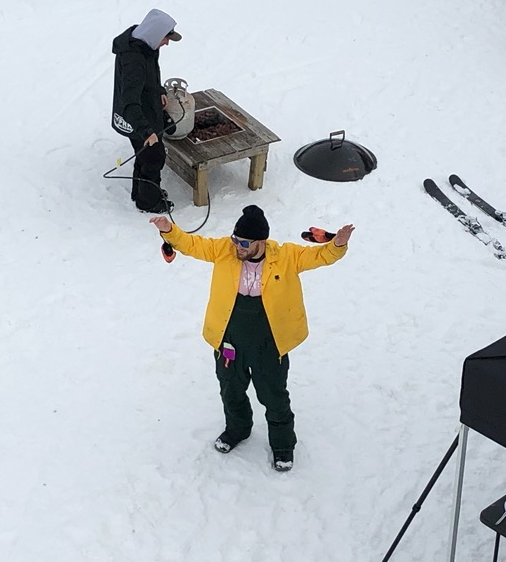 My name is Kael Luberts. I am the parks, event, and team manager for Colab Brand. Much of my work happens behind-the-scenes, mostly because Karl has a more handsome face. Some of you might have met me before or spotted the yellow coat.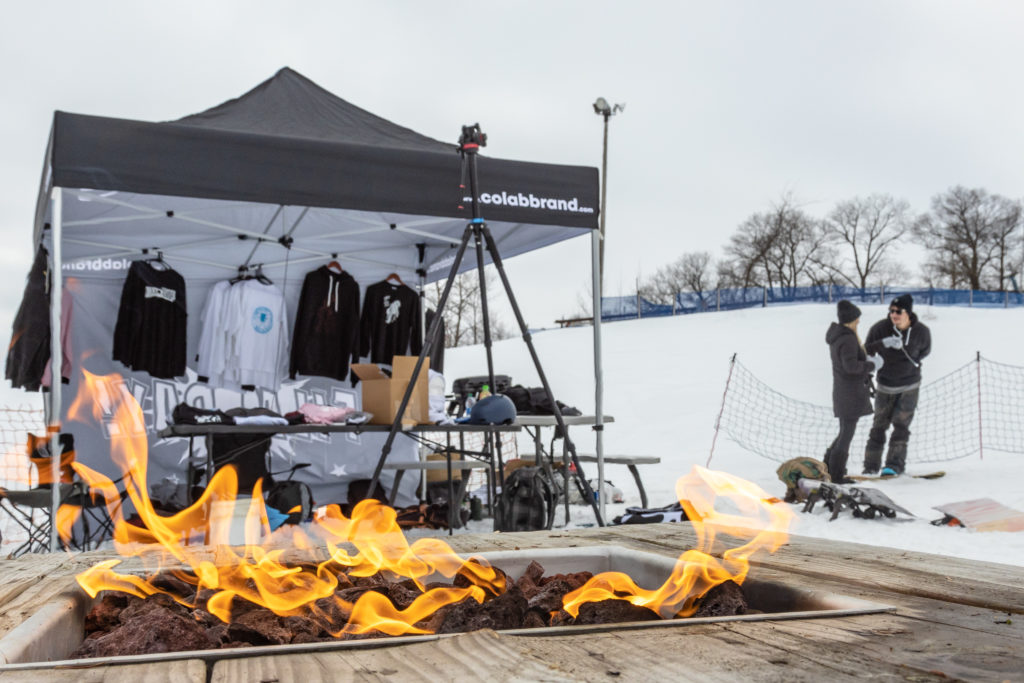 Colab Brand has strong ties with resorts because many of us consider our home hills second homes. Powder Ridge is where I learned how to operate a PistenBully under the direction of the legendary Mike Wiener. A passionate builder who had operated the park until 2016 when he moved away to start his next journey. Powder Ridge is where I also met Karl; big dog and founder of TheTrainPark (later changed to Colab Brand). Karl and I met through D-team. He was the lead freestyle ski instructor and I was the lead snowboard instructor. After a year of getting to know each other on the slopes, Karl invited me to join him in building a dream. The idea was to turn this special place into an enriching experience for local riders. We put together a team of skilled builders at once. We believed that parks built by the people who ride them was something to explore.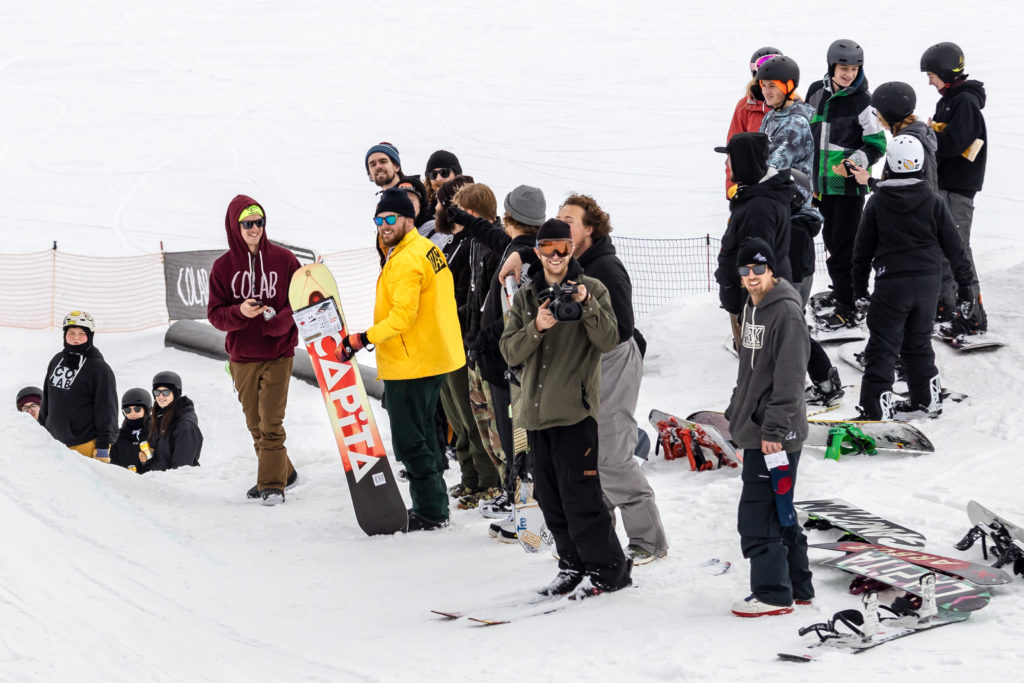 The Plan:
Summary from the poster: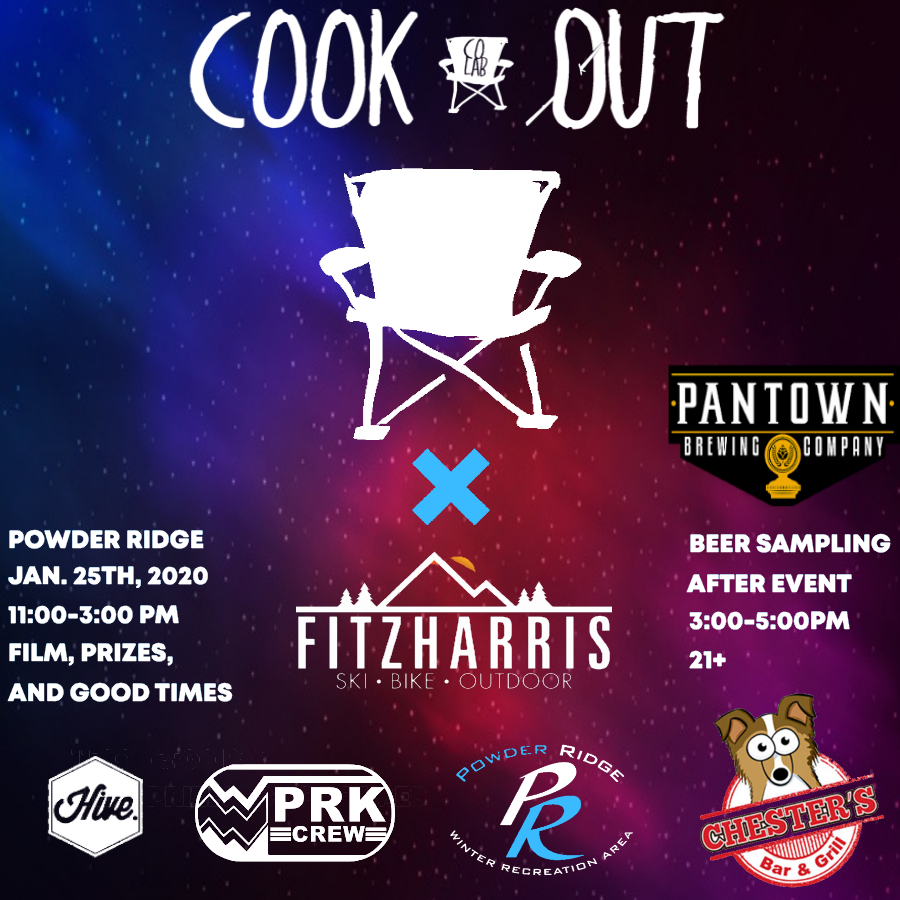 Free filming and stills from 11:00 AM – 3:00 PM (Just keep a heads up for other riders).
Pantown Brewing is handing out free samples 3:00 PM -5:00 PM (21+ ID required)
Multiple filmers and photographers will be uploading clips to a shared dropbox. Download what you want and tag those who are responsible!
Purchase a lift ticket at the front desk and event is free. Support your local parks!
$5 will get you some grub (hot dog, chips, cookie, and a pop).
Come one, come all! The park will be open to all skill levels.
Features will range in difficulty.
If you do something cool, you may get a prize. Prizes Provided by Colab Brand, Fitz Harris, Powder Ridge, and Fast Wax.
Firepit, music, food, free waxing, vendors, and drinks all in the park!
Last year the Cookout out at Powder Ridge was a blast (If you need a media recap of last year look here). But there were things I wanted to change this time around. The Cookouts were able to attract quite a few people in the 2018-2019 season, but I felt like they were lacking something. When I was younger the problem for me was intimidation. Competition tends to shoo away those who are just beginning to learn. Karl and I wanted to fix that. By breaking up the pressure of an intensely intimidating environment, you're left with fun and self-motivated progression. We integrated a more tailgate/party jam session approach with features for every skill level. But as always, there was more to be done.
A 4-hour event in a location surrounded by cornfields — some may call it nowhere . As a teen I would attend dirt bike and wakeboard events; really anything I could get my parents to say yes to. At that time I wasn't participating. So what made these gatherings fun? In the summer of 2015, I went to Red bull's Redbud in Michigan, a dirt bike competition (also a huge party). If you are not familiar, Redbud is a fun chaos of vendors, riders, and campers. How could we do the same? We needed help. We then reached out to Fitz Harris, Pantown Brewing Company, Hive apparel, and Fast Wax.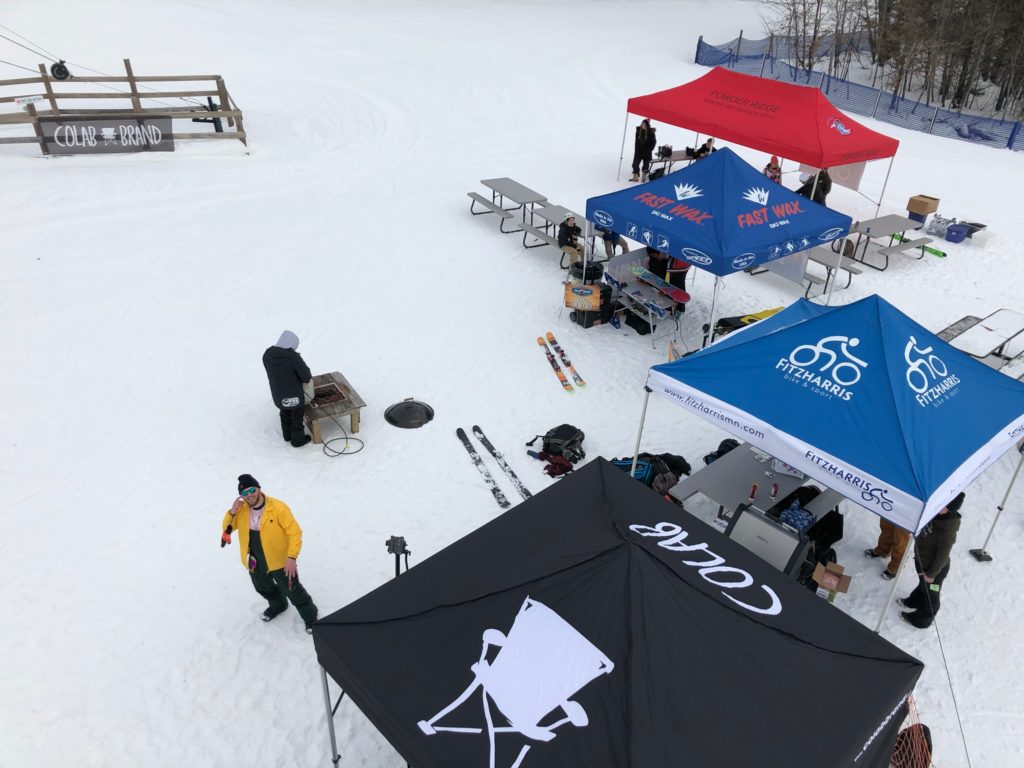 The Build:
The build started with Tony Conrad (current park manager) and his team pulling all but five features on Thursday the 23rd. Yes, that Tony Conrad from Bald E-gal Productions videos like Tackle Box, Trees Please, Smorgasbord, and more. After ripping the features out and communicating to Karl and me about potential designs, Tony and his crew started to shape the snow in South Park. The decision to shape a night before. Risking some sad riders Friday was a bummer but made it less taxing for the builders who would inevitably ride during the event (well rested builders/riders = less injury and more happy). Matt Wunderlich (of Wild Mountain) has a lot to say about building,
"A well thought through plan is huge and to build a good jump takes 2-3 days."
3 days may seem long, but I believe this advice holds true for a complete park rebuild as well.
Our part in the build started Friday around 10:00 pm. I arrived early to see Tony's crew looking tired from the night before, but still excited for the coming build. As the builders started to trickle in, we came up with the final design (later tweaked slightly). Our crew consisted of 7 Powder Ridge employees, 4 of the Colab crew, and 5 volunteers all coming and going at varying times. This might seem like a large crew, but we were spread thin most of the night. Luckily Karl brought 6 of our new Shaper and Knurly rakes so everyone was able to shape. Even with so much to be done, the build went well. The first feature to be set was the Quad Kink under the direction of Sean Klein. Sean took charge as I was operating the Pistenbully and the bobcat transporting the next feature up into the park. The ground crew with him drug the quad kink in place and positioned it all by hand. Once they were ready, I was signaled over and we buried it. This man-handling style approach was the theme for the night and almost every feature was placed this way under the direction of Tony, Sean, and Karl. This gave me time to shape, prep areas, and break ice ahead of the ground crew. This also gave our bobcat operator time to get features close to their new homes and bring the rest to the rail yard.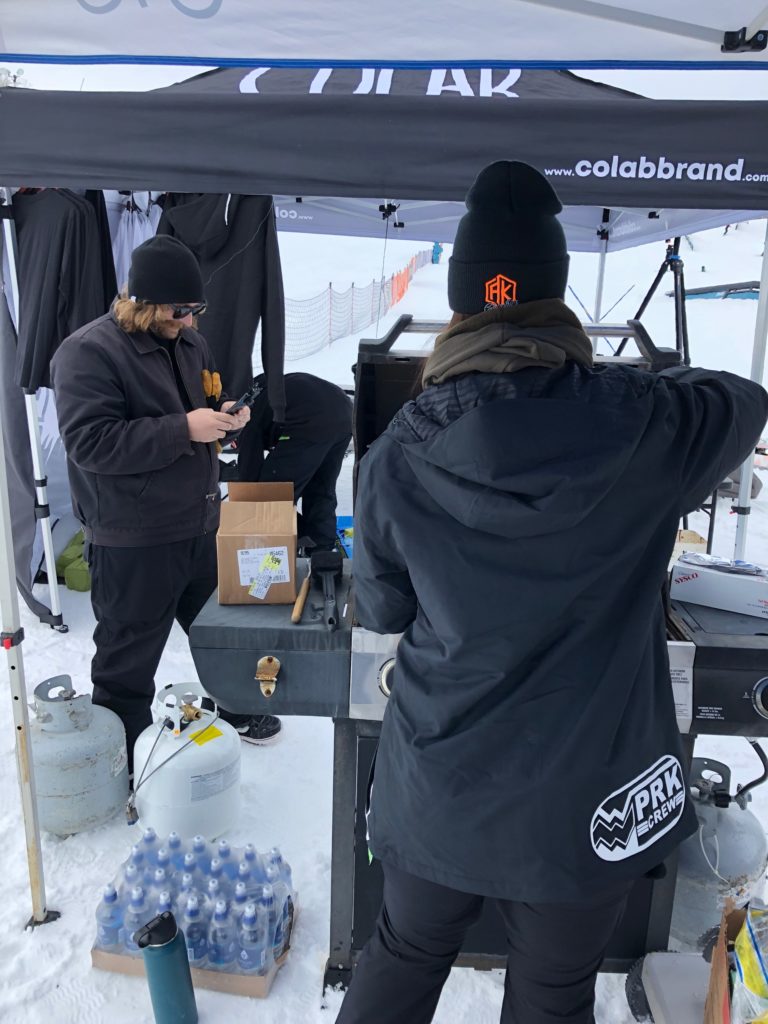 But it's not always rainbow and sunshine.
There were also a few things that hampered our success. The PistenBully I was operating was an early 1990's model 260. Now in 2020, she was really starting to show her age. The machine was constantly leaking hydraulic fluid which meant halfway through the night it needed to be driven down and refilled. On top of that, the joystick buttons starting shorting. As I was trying to move the wings in and out, they would get stuck. This made it hard to get close to some features and to dig down trenches to the correct depth. This is a common problem that many resorts have. An expensive machine with a small budget for repairs usually equates to bigger problems down the road. But with good hand signals and little patience, rails will always find their place.
Overall the build was a great success and we were happy with what it turned into. Thank you to Tony and his park crew, the Colab crew: Karl, Sean, and Keegan and the volunteers: Caleb Klein, Lance Tikkanen, Alek Semerad, Bailey Bence, and Justice Jensvold.
The Event:
What can I say more than "Wow, that was fun". All of the vendors and our people showed up before the action got started and helped setup. Laura Frank from Powder Ridge was cooking delicious hot dogs, and Andrew Zackoski's fire pit was setting the mood.
It was a new thing for me when Powder Ridge riders were coming up and pointing out the lack of room on the rope and how loose the rope was starting to look. This may seem like it would have been too crowded and a lot of hassle, but there is something about the "mob" mentality that really excites the action sports community. Given the chance to make it a little more dangerous why wouldn't we? My partner and I would point at a feature and yell
"Want free stuff? Do something crazy!"
… and then fun would begin. Once the feature was picked, the skiers and snowboarders started to jam. This usually starts with more basic tricks. This quickly changes once the one person gets comfortable and throws a little variation into the mix. After the ice is broke, everyone is trying to one up each other. This type of jam promotes learning new things and getting out of your comfort zone. One of my favorite things about this style is that riders get to watch others progress on the feature as they go up the rope. It creates a track-like setting: fast paced riding that is self-motivated. This type of riding builds the desire to try harder and inspires people to go bigger.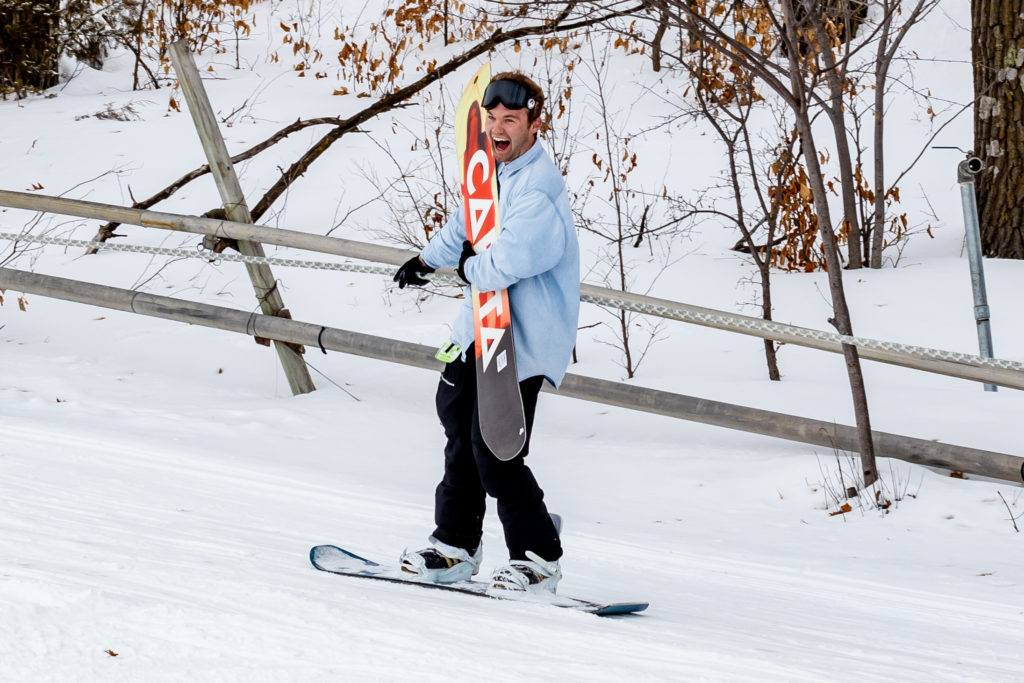 In my opinion the cons of the event were the rope tow speed and the soft lips. I don't know what it is but after riding all the other ropes of the Midwest, Powder Ridge feels like they might have the slowest rope. I would like to speed that rope up for future events. If I ride down to the bottom of the park, I get off halfway because I am so impatient. The soft lips happen as a result of warm weather and less time to set overnight. Coupled with a mob of riders, lips quickly shrink. Salt is brief remedy.
This cookout was one of the easiest and most relaxed builds I have ever been a part of. Positive feedback from those who were there reassured me that we would plan on doing something similar but bigger for The Private A-fair, so stay tuned for some more carnage.
The Content:
For those looking for content from the event there is an attachment below. None of it is edited and all the clips are raw. Download, edit, and share. All we ask is that you credit and thank all those people who put in their time and sacrifice for these events. We at Colab Brand want to extend a special thanks Powder Ridge and their crew, Chester's Bar, Fitz Harris, Pantown Brewing, Hive Apparel, and Fast Wax for helping make this happen.
Crediting the filmers, photographer, resorts, and brands in your videos helps convince more individuals to get involved with events and heightens the possibility of events happening. We also want to thank those individual who find themselves behind the lense Steph Keenan, Grant Sadusky, Matt Krohn, Andrew Guggleberger, and Jared Magstadt.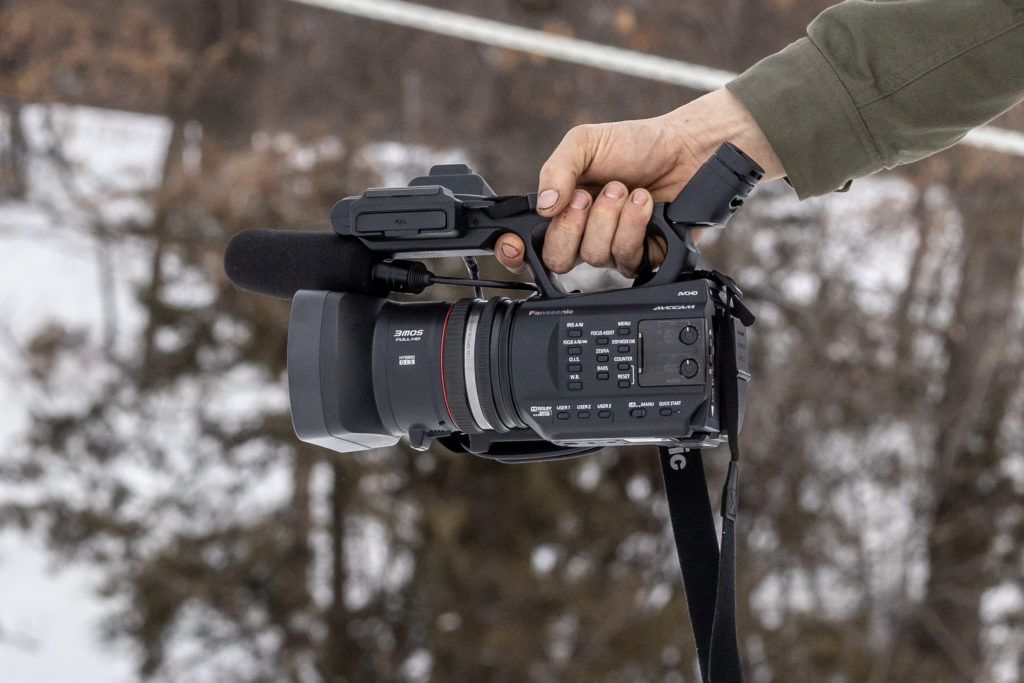 Thank you to those all that attended it was a blast. See you at the next one.
IF YOU LIKE EVENTS, TAG THE RIGHT PEOPLE: Dropbox link below
https://drive.google.com/drive/folders/17V-FQLWi9caOngvUhsK2F1DI5DIIMFyQ?usp=sharing
Thank you for Earllllllll for editing my article.