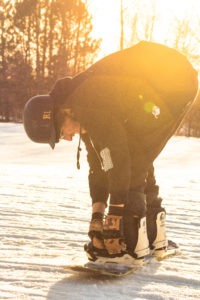 I've had some trouble sleeping lately. My head feels like a block of lead and my mood has flat lined. An Interim daze holds authority while I fade in and out of sleep. My limbs, I would assumed paralyzed, have adopted a mind of their own; they move. My brain stakes its gamble where it should and sacrifices a healthy night's sleep for thoughts of snowboarding. And while this reality shakes hands with the gatekeeper of dreamland, those thoughts turn to dreams of snowboarding and my limbs act out what they cannot do for seven more months.
They say those who experience the passing of autumn's beauty to winter suffer a seasonal depression. If this true, and I do believe it may be, than it is only within our best interests to occupy our winter with activities that stimulate our well-being. But the unforgiving cold has a way of speaking to you and the wind, a way of yelling. But winter is home to many of us. My identity has given something to it. And for that I owe it respect.
I've grown to love the winter, as is natural of someone born to it. And so naturally, I've learned to spread thin my happiness through the winter months, careful that it won't run out early. Warm fires add comfort. Coffee adds excitement. But snowboarding adds agency. And so now that's its gone, and winter has turned to spring, and spring to summer, I've had a hard time sleeping.
I don't know if I can really shake the urge to snowboard. Ask any addict if it gets easier. The truth of it all is, it doesn't. And so that kind of makes me an addict, doesn't it. It makes us all human. but its very peculiar that what makes us so happy in winter can cause us such great depression in the summer. I'd grab it if I could. I'd ring its neck until it fell limp. But the reality of our existence means we are all subjected to emotions that are not tangible. Frustration for not being able to observe what we can only imagine or feel is pointless; primitive. So be patient my fellow riders. Because some of us will reach for the fishing rod or the skateboard, wake board or the wake skate. Some will drag their knuckles through the next seven months. Some will live their days in a dream. But that's the thing about addicts. We all know that this sport takes just as easy as it gives. A depression that seeks company. So grab a beer, stock up on your gear, and sleep little.
Winter is just around the corner.
#LAPtheROPE #stopclickbaiting @Earllllllllllll @thetrainpark