This might not seem like it's at all related to the action sports I love, but it's how I get to and from the places.
You know how you judge movies and books by their cover? The same is true with your car. A person's first image of you as you drive up sets the tone for how your entire meet will go. When I first started selling ropetow gloves in 2015, I borrowed my mom's car to meet with retailers, just to set a good first impression.
RUST
Rust is a reaction with air. Water speeds it up. The answer is simple: we need to seal it. Buy this kit and this can of goodness. This is the stuff to save your day. You probably have the other things in your garage, but this is a quick list:
Don't skip the rubber gloves. This stuff coats you like ink, and the only way to get it off your skin is with scotch brite or sandpaper.
What You Do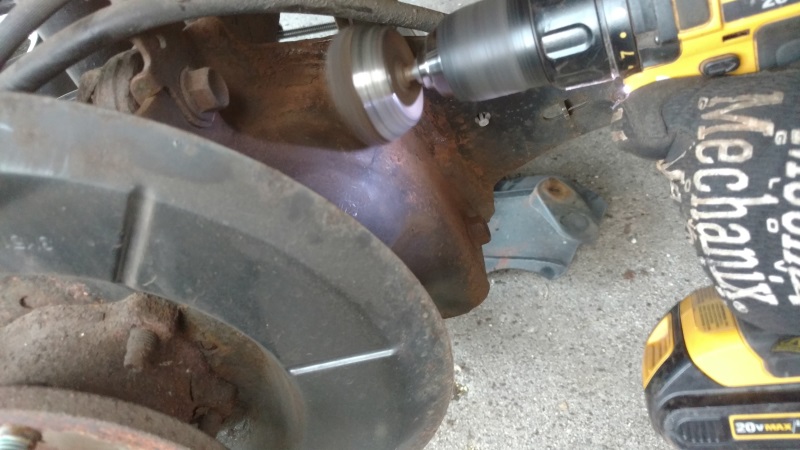 Scrape and wire brush the loose stuff. If there's oil or grease on it, clean it off with the cleaner.
Don't bother sanding down to clean metal, this stuff eats into the rust and seals it up like epoxy. Most reviews say they have better luck leaving most rust on there. Google it a bit if you're unsure.
Ö Check me out using Mechanix Gloves, the rust juice soaked through and stained my hands!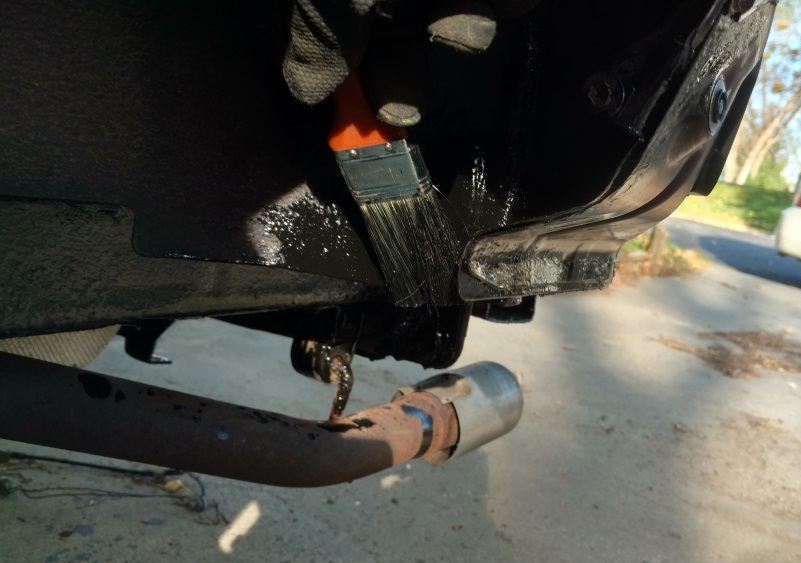 The biggest areas to check out are the inner-bottom edges of your doors, any seams in your fenders, and the running boards (where you would jack your car up).
When you have all your areas ready to coat, pour some juice into a separate container (in case you don't need it all), and start brushing it on.
Whatever it drips on, it's never coming off. So maybe drop some cardboard down.
I took off all my plastic trim, and found a couple of rust holes. After I cleaned and coated a couple times, I scuffed the coat with 240-grit sandpaper and smeared in some waterproof, fiberglass body filler. It's covered by trim, so I didn't care to sand it smooth, but I didn't want the rust to spread.

Inside the Doors
After the rust-proofing is dry, you're ready for some cavity wax. Same idea, except this stuff leaks into the crevices like water, then it dries up and seals everything off.
Find the drain holes, stick the tube of the cavity wax in there and coat it. It'll drip all over; just wipe this stuff up with a paper towel. I let my doors stay open for a couple hours to dry.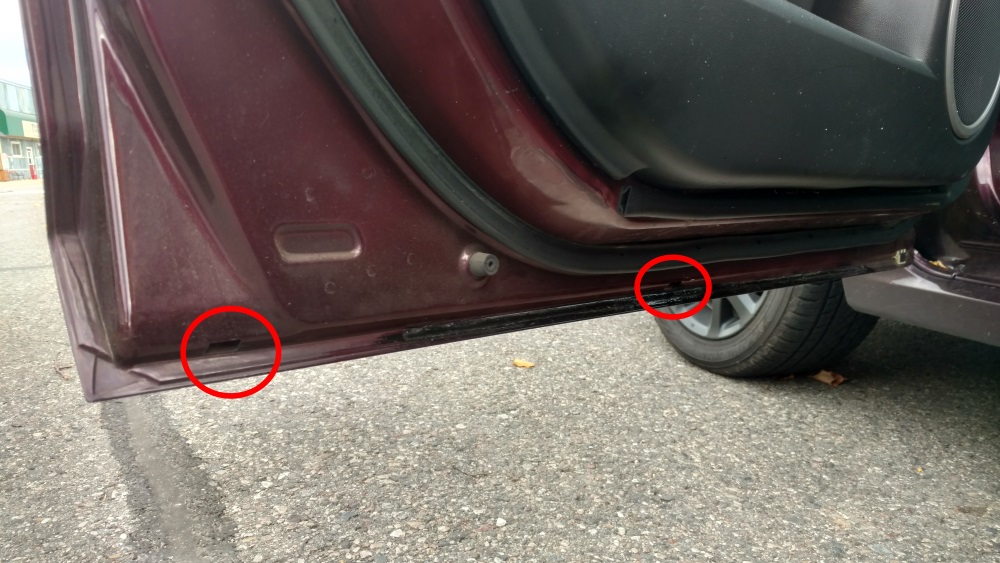 That's it fam! If you're picky, you can find some color-match paint from the paint code inside your drivers door. My mazda is phantom purple, just check your color code and order some online or have a store like Auto Value mix up a rattle can for you.
Done good enough means you just bought your car another 10 years.